What's the Vault Cache?
Market Place downloads and learning sample projects are stored in your Unreal Engine 4 Vault Cache directory and are being keep there as unchanged original files. You import them to your projects or start a new one with them. UE4 then creates a copy of theses files inside your project folder.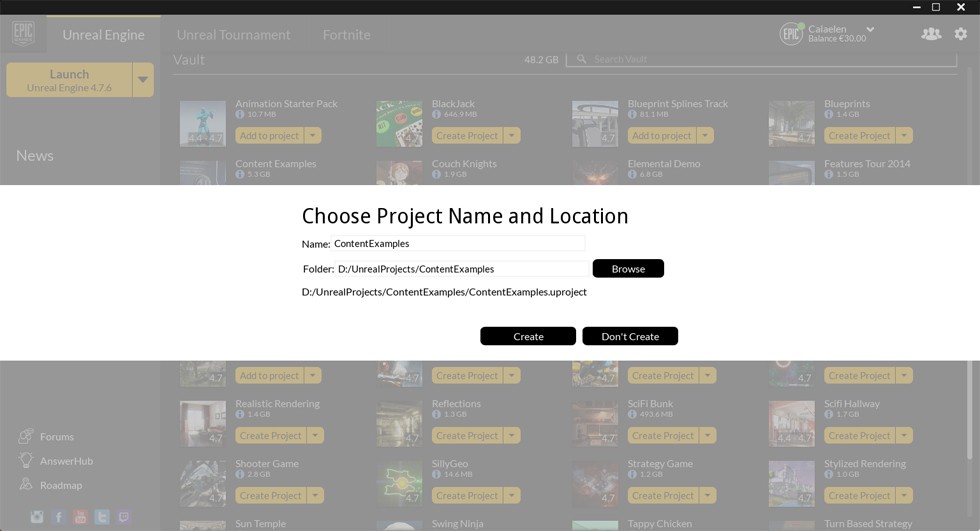 What's the problem?

The VaultCache is always located at [GameEngineInstallFolder]/EpicGames/Launcher/VaultCache/. It can't be relocated by settings or during installation yet (UE 4.7.6). For performance reasons, I have UE4 installed on my start-up SSD drive and my vault contains 50GB of data which isn't used "directly". Files are always copied from it to the project folders.
Solution: Relocate with a symbolic link

With a symbolic link, we can map a folder to a completely different location, even a network drive. In my case, the VaultCache is not even on the PC anymore but on my NAS at Y: (\\NAS-Cala) ;-)
Read more about symbolic links including examples at Wikipedia.
How to change the VaultCache Folder
Windows:
go to your [GameEngineInstallFolder]/EpicGames/Launcher/ folder
copy your VaultCache folder to the desired position (other drive, network storage)
rename VaultCache to something else (delete later, better safe than sorry)
start the cmd.exe (terminal) with administrator privileges (right mouse, start as admin)
change directory: cd [GameEngineInstallFolder]/EpicGames/Launcher/
create the symbolic link with your new location, e.g. mklink /D VaultCache "Y:\apps\UE4\VaultCache"
start the Epic Launcher and click on 'Library' – the Launcher should rescan for new content now
delete the old VaultCache folder and free up your drive :)
Mac:
same steps but instead of mklink use the ln function
sudo ln -s /Volumes/HDD2/UE4/VaultCache/ VaultCache
Conclusion
I hope this is helpful to you. It saved up a lot of space on my SSD drive and I still can keep all the great content from the learning tab. *Happy GameDev is happy*
Recent Update of the UE4 Launcher!
The Epic Launcher software now includes the possibility to change your vault location inside the option menu. Just click on the cog in the right upper corner and select 'Manage Vault Cache'. Nice and simple. I guess my blog entry is obsolescent now ^^;